TIA Standards Development Overview
TIA is accredited by the American National Standards Institute (ANSI) as a "standards developing organization (SDO). Standards projects and technical documents initiated by TIA's engineering committees are formulated according to the guidelines established by the ANSI Essential Requirements and the following documents:
Every new standard project begins as a technical contribution in one of TIA's technology-oriented engineering committees or subcommittees. A Project Initiation Notice (PIN) form is completed and submitted for approval by TIA staff. After the project is approved for initiation, the formulating engineering committee or subcommittee will continue to develop the technical parameters of the project. When the proposed standard nears completion, the engineering group will chose to submit the document for approval as a "TIA Standard", an "American National Standard," or both.
At TIA we expand and leverage our expertise in the ICT community through strategic partnering with other organizations to bring our members a diverse and robust technology offering. We have formed many Memorandum of Understanding (MOU) and Friendship agreements over the years. To view a list of organizations that we partner closely with go here.
Interested in participating in a TIA Engineering Committee? Submit a TIA Engineering Committee Application today!
---
Why are standards important? Standards Boost Business!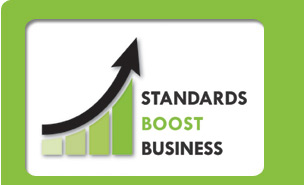 In today's complex global marketplace, your company needs every advantage it can get. So you want to access new markets, reduce costs, increase efficiency and be more competitive. As a consumer, you want faster access to new technologies that can offer you the services you need to make your life more efficient, comfortable and enjoyable. Standards are the answer!
By participating in standards development activities – and by implementing standards and conformance tools – organizations have been able to streamline processes, trim costs, earn and maintain market access, and boost their bottom line. Voluntary standards and conformity assessment activities benefit public health, safety, and the environment. You, the consumer, benefit from the development and design of new and improved requirements for the safety and quality of the products you buy and the services you rely upon each day.
For more information, check out ANSI's Standards Boost Business campaign. TIA is a proud sponsor of the Standards Boost Business program.
---
Why aren't industry Standards free?
There are many costs associated with developing, maintaining, and distributing standards – all of which can be reflected in the price of a standard. While some standards developing organizations (SDOs) especially those in Europe and Asia receive significant government funding for their development, that is not the case in the United States of America. SDOs have different operational models and funding sources, but TIA and many others depend upon the purchases of standards to offset the cost of hosting meetings and managing the standards development process. Accordingly, it's very important to protect the intellectual property that is invested in standards. Every standard is a work of authorship and, under U.S. and international law, is copyright protected giving the owner certain rights of control and remuneration that cannot be taken away without just compensation. For more information, see the ANSI white paper entitled "Why Voluntary Consensus Standards Incorporated by Reference into Federal Government Regulations Are Copyright Protected".
---
Process for an American National Standard
The draft of the proposed document must be circulated as an industry-wide ANSI "Standards Proposal" (SP) ballot/pink ballot. During the balloting period, the ballot is available for public review and any interested entities may submit one of three responses to the ballot: "affirmative," "affirmative (with comment") or "negative (with comment)." After the final draft of the document has obtained industry consensus, the balloting information and supporting documents are reviewed by TIA, to ensure that process requirements have been met. Upon completion of this review, the document information is forwarded to the American National Standards Institute (ANSI) Board of Standards Review (BSR) with request for approval. If the document is approved as an American National Standard, the respective TIA committee will approve the ANSI/TIA standards for publication.
---
How to Participate in TIA Engineering Committees
More than 500 individuals - representing network equipment manufacturers, service providers, government entities, and end users – currently serve on TIA's Engineering committees. TIA encourages all interested parties to joint the standardization process based on their needs:
One Committee: If an individual/organization is interested in joining a specific TIA engineering committee to work on a new or exisiting standard, interested parties may submit a TIA Engineering Committee Application or contact the Standards and Technology Department at +1.703.907.7700 or by e-mail at standards@tiaonline.org.
Multiple Committees: If an organization or individual has expressed interest in participating in more than one of TIA's engineering committees, a general TIA membership is recommended, as it provides access to all twelve committees for one fee. To join as a TIA member, please fill out the TIA Membership Application or contact the Membership Department at +1.703.907.7713 or by e-mail at membership@tiaonline.org.
Existing TIA Members: If an organization is already a TIA member and has paid its annual membership dues, then representatives from the organization may participate in all of TIA's engineering committees and subcommittees at no additional cost. Only one voting participant is allowed per organization, on each committee or subcommittee - any additional representatives will be designated as "non-voting" participants.
Note: Government agencies are allowed to participate at no cost as "non-voting" observers. TIA also maintains reciprocal agreements with other standards developing organizations and academic institutions and permits representatives from these associations to participate at no cost as "non-voting" members.
---
For more information about the standards development process, please contact standards@tiaonline.org.